Well here's a real guide.
Gear and Requirements
Requirements
bandos has one of the easiest requirements and that is
70 Strength
A Hammer
Recommended Stats
-80+ Attack & Strength
-70+ Defence (Barrows/Bandos is a MUST!)
-85+ Hp (Graardor maxes 35 with Ranged, and his minions 20. Always stay above 60 hp.)
-80+ range to be able to wear karils top or black d hide body
-70+ Magic
-60+ Prayer 70+ Recommended
-Access to Trollheim teleport*
-Decent equipment
Gear
Helmet: Verac's > Neitzinot > Torag's/Dharok's
Amulet: Fury > Glory > Unholy Symbol
Chest: Karil's > Bandos Chestplate > God/Black D'hide
Legs: Bandos Tassets > Verac's > Torag's/Dharok's
Boots: Dragon boots > Bandos Boots > Rune boots > Climbing boots
Ring: Wealth > Life > Zerker
Weapon: Chaotic Longsword > Chaotic Rapier > Chaotic Maul > Saradomin Godsword - Bandos Godsword - Armadyl Godsword - Zamorak Godsword -Whip
Shield: Divine > Elysian > Dragonfire > spectral > Obsidian >Granite
Cape: Soulwars cape>Fire Cape > God Cape (mage arena) > God Cloak (Treasure Trail) > Skill cape (t) > Skill Cape > Obsidian > Legends
Gloves: Barrows > Dragon > Rune > Black/God D'hide
Spec Weapon: Dragon Claws > Dragon Halberd > Dragon Dagger (p++)
Arrow Slot: Zamorak Arrow
Sara items are not needed when getting KC, there are none around.
Divine is much better than Ely, you don't get too much damage so you don't lose too much prayer.
Chaotic Weapons: Obvious.
Dragon boots have better stats than bandos.
Karils top with tassy is better than chestplate with tassy since you need the mage defence.
Verac's helm is better than neit.
Remember, its not all about the str bonus
Inventory
1x Saradomin brew
1x Extreme Str pot or Super Str pot
1x Extreme Att pot or Super Att pot
1x Super Restore potion
2x Prayer potions
3x Home teleport tab
1x Zamorak Top
1x hammer
4x law runes
4x fire runes
Rest food( sharks or better) i prefur rocktail.
in this set-up summon up your beast of burden(yak, War tort, or Spirit Terrorbird) and fill it with food or saradomin brews and super restores
How To Get There
Once you Teleport to trollheim drop 2 of your food
then use your house telleport or another form or to get back to a bank grab 2 more food
Then Teleport back up to Trollheim and Grab The other 2 Food you dropped earlier.
now to make your Way to the Godwars Dungeon.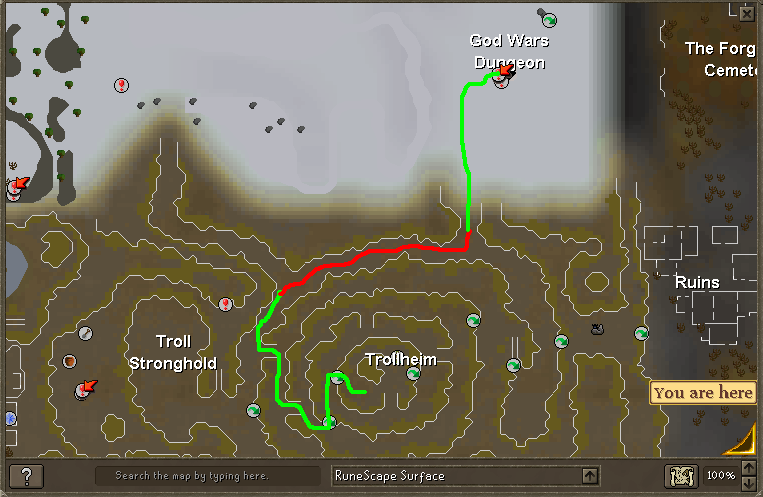 Follow the Red line all the way till you Get to the green line, once you get to the green line you will see 4 or 5 ogre rangers so protect from range while you run past them) they can hit quite high, once your back in the red you can take your prayer off.
you will arrive at a massive boulder just lift it and sqeeze through.
now for getting Kill Count there are 3 good places to get kc 4 if wielding ags.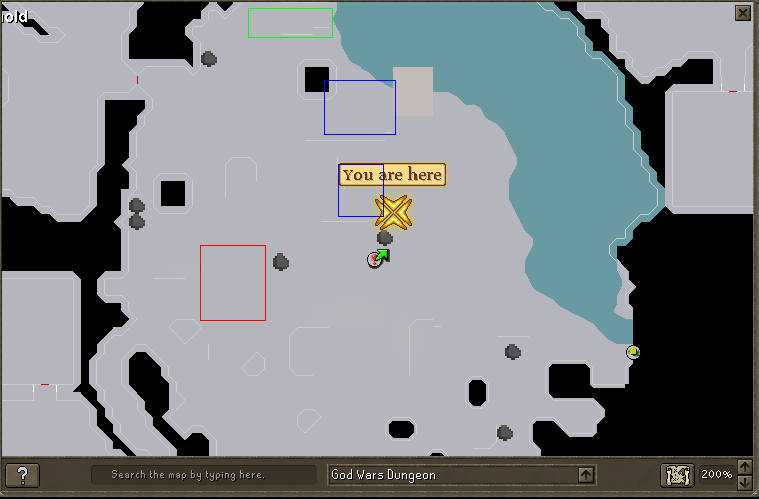 the blue area is good if you have a bandos,zamorak, and sara item. < kill goblins and hobgoblins
red area is good if you have all 4 god items(zamorak,Armadyl,bandos, and Saradomin items) <kill goblins
green area <decent only good if you dont have a zamorak item) <i rarely use because i always have a zamorak item
Strategy
run back and forth between the top blue and red area for super fast kc killing nothing but goblins.
Killing General Graardor and his minions
Once you have gotten you 40 Kc you want to use your Hammer on the big door.
now if your on an open world get to the front door and pot up in order
Saradomin brew(for extra starting hp and Def)
Super Restore (to fix all your stats)
Extreme str and att or super str and attack
then Turn on your prayers
for basic prayer turn on
piety.chivarly , protect item and protect from melle
if on curses
Or if you are on Ancient Curses;
~Deflect melee
~Protect Item
~Berserker (If not using overload)
~Leech Attack/Defence (both recomended)
or
~Turmoil
now once inside it gets a little tricky.
Graardor
now if your using Ags,or Bgs,claws use up all of your Special on General Graardor . if using sgs wait till your hp falls below 600lp to 700 lp or your prayer is below 50. in hopes that it will heal you and restore some prayer points.
now make sure you keep your lp above 600. why cause Graardor can hit 350s with range and if his mage or range minion hit at the same time it can be an instant ko, = a loss of items.
now the only thing you need to Remeber is to make sure you reclick and attack Graardor after everytime you eat or pot up. as your auto retaliate is off.
now that general graardor is Dead you have 2 options.
Once Graardor is dead, pick up the drop, and either;
A)Stay and kill the 3 minions, starting with Steelwill (Magic), then Grimspike (Range) and lastly Strongstack (Melee).
Pray Protect (deflect) from Magic until Steelwill is history, then switch to Protect (deflect) from Ranged while you kill Grimspike and Melee afterward. I highly suggest leaving Protect (deflect) from melee on if you are staying for another kill.
If you have enough food for another kill, use the altar, then activate your boost and protect item prayers and get ready.
B) Teleport out to a safe spot, preferably your house (you don't lose any items on death there).
REWARDS
now you have your chance of getting once of those reallly good drops
and here they are
~Bandos Hilt (1/150)
~Bandos Chestplate (1/80)
~Bandos Tassets (1/70)
General Graardor
TOP DROPS
Godsword shard 1, Godsword shard 2, Godsword shard 3, Bandos hilt, Bandos boots, Bandos tassets, Bandos chestplate, Shield left half, Dragon spear, Dragon med helm, Clue scroll (Level-3), Clue scroll (level-4), Starved ancient effigy
Other Drops
Ourg bones (100%), Coins (19500-21000), noted Grimy snapdragon (3), Snapdragon seed, noted Adamantite ore (17-20), noted Coal (115-127), noted Silver ore (100), Nature Rune (50-70), Rune platebody, Rune pickaxe, Rune 2h sword, Rune longsword, Rune sword, Rune sq shield, Rune kiteshield, Rune spear, Rune battleaxe, Adamant javelin (15), Magic logs (15-33), Super restore potion (4), Eye Patch, Dragonstone, Uncut gems, Death rune (40), Blue charm, Crimson charm, Green charm, Gold charm, Steel arrow (145), Rune arrows (41-43), Shark, Law rune (40)
sergeant_strongstack
TOP DROPS
Godsword shard 1, Godsword shard 2, Godsword shard 3, Bandos tassets, Bandos chestplate, Bandos boots, Clue scroll (elite)
Other Drops
Cosmic runes (25-35), Steel arrows (100), Beer, Kebab, Combat potion (3), Super Strength (3), Steel dart (97-102), noted Limpwurt root (5), Chili potato (3), Shark (2), Nature runes (15-19), Eye patch
Sergeant Steelwill
TOP DROPS
Godsword shard 1, Godsword shard 2, Godsword shard 3, Bandos tassets, Bandos chestplate, Bandos boots, Clue scroll (elite)
Other Drops
Cosmic runes (25-35), Steel arrows (100), Beer, Kebab, Combat potion (3), Super Strength (3), Steel dart (97-102), noted Limpwurt root (5), Chili potato (3), Shark (2), Nature runes (15-19), Eye patch
Sergeant Grimspike
TOP DROPS
Godsword shard 1, Godsword shard 2, Godsword shard 3, Bandos tassets, Bandos chestplate, Bandos boots, Clue scroll (elite)
Other Drops
Cosmic runes (25-35), Steel arrows (100), Beer, Kebab, Combat potion (3), Super Strength (3), Steel dart (97-102), noted Limpwurt root (5), Chili potato (3), Shark (2), Nature runes (15-19), Eye patch
Last edited by n00bsrdeath2 on 2012-03-20, 18:27; edited 1 time in total