So lately, I've been getting cleaned lots while dicing. After about 1 week, I'm already at a total of -40m (+65m, -105m), and I usually got cleaned a lot more before I actually ended registering a nickname. Every few days, I'd end up getting cleaned at around 15m. For example, just today I got cleaned after rebuilding 17m in 2 days. A wasted effort. So I thought to myself, I've never owned a rare since I always get cleaned before I even reach 50m so what could possibly prevent me from rage betting my bank? Then I thought that if I made a rebuilding series where I would have to get a rare from scratch, I couldn't possibly bet my bank by sabotaging the whole series. So here I am typing up this post. My goal will be to own a Santa hat before getting cleaned again. Every day, I will be posting what I've made with what method I've used for the day, everyday until I own a Santa hat. I will try to vary the methods daily and when I find a good method, I'll stick with it for a while. Thus, this series may also be very helpful whenever you get cleaned. What's best is that you don't even need to be a paying member!



I will most likely be starting this series on Monday, August the 20th. Although there is still a chance I will begin on the 19th or perhaps today. I am very excited to start this series and I hope it will be fun and helpful to read for everyone.

THE FOLLOWING PICTURE INCLUDES MY STATS, EVERY METHOD WILL BE WITHIN THIS RANGE OF STATS.
[/size][/color]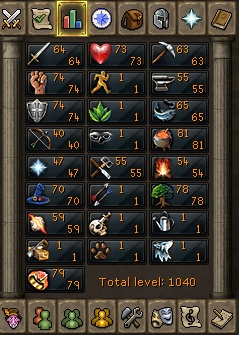 THIS IMAGE IS THE TAB I WILL BE PUTTING EVERYTHING I MAKE INTO. EVERY OTHER TAB HAS EITHER RUNES OR NON-TRADEBLE ITEMS.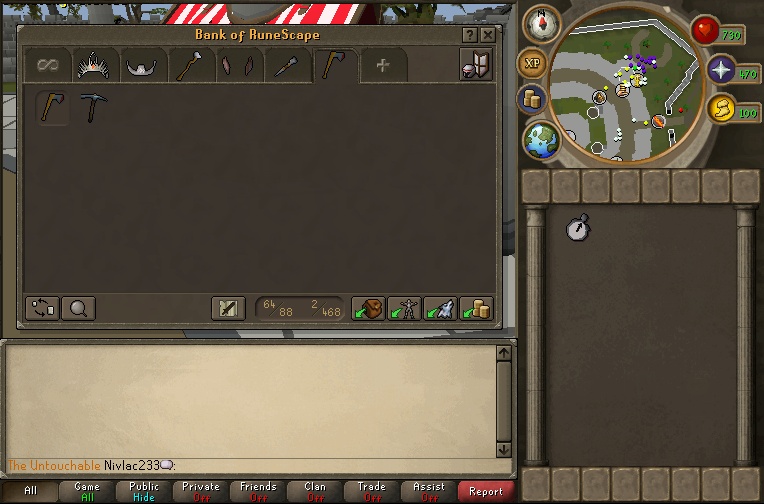 DAY 1 (Date: August 20th, 2012)
So today I had a few methods in mind. As soon as I log on to Rs I will be working on them.
METHOD #1, I wanted to start off with something that wasn't too common to make money in Rs F2P. This method is revenant hunting. You will need a combat level of at least 80. We will be hunting the revs for their rare corrupt dragon drops. The following picture is the setup I used. Notice the G2H, as revs heal a lot, you must be capable of hitting very high in one hit. I also recommend the ability to use both protect from magic and ranged prayers. Bringing swordfish + a strength pot would be a smart idea.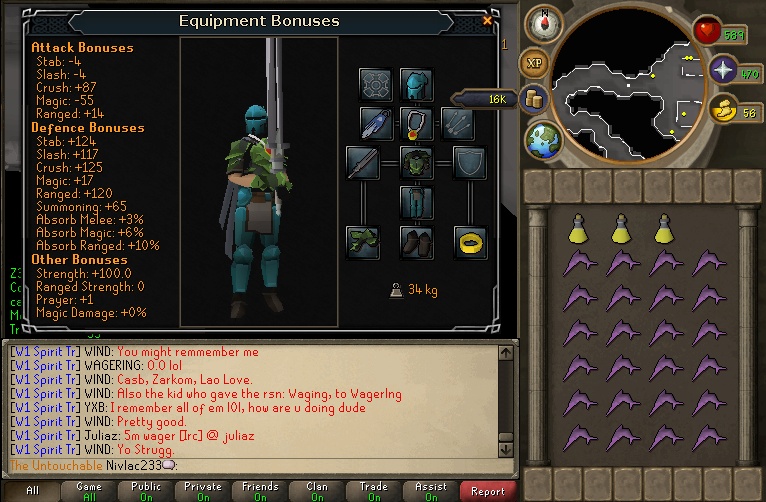 The following next two pictures is the route to arrive at the revs.
GETTING TO THE DUNGEON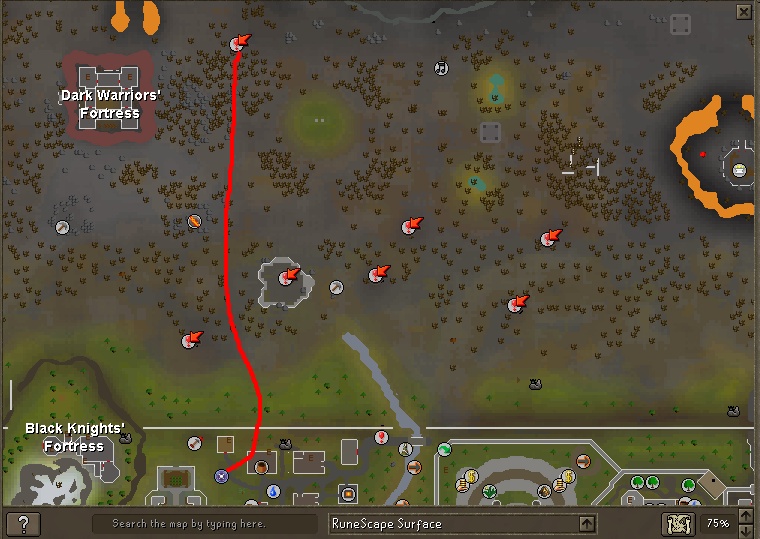 ROUTE TO REVS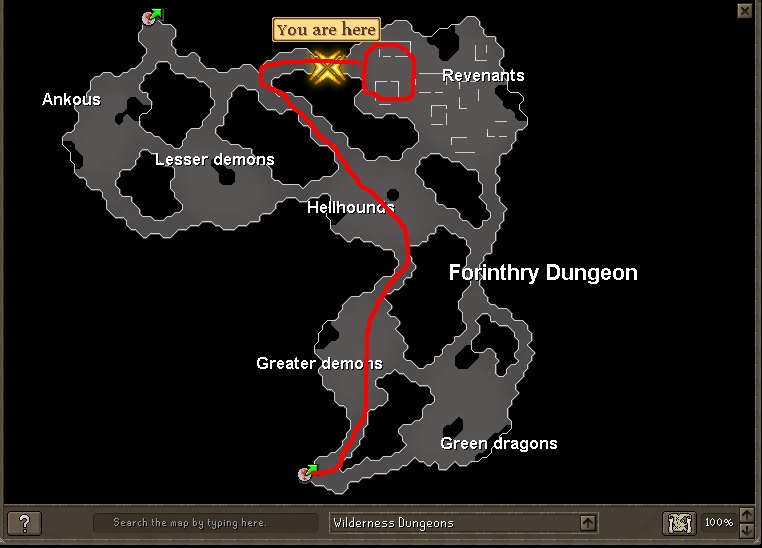 YOU MUST take the route of the picture above, entering the revs another way would mean being piled by countless revs. Once you arrive, you must stay in the area I circled. You must always avoid the revenant knights as they are level 126 revs. Try to avoid the rev werewolfs and hobgoblins, but if they are in your way, you must kill them.
Keep in mind, it is not uncommon to not get anything good from the revs. Although it is also very rare for there to be any pkers in w1 at revenants, it's always good to bring an emergency teleport to run to level 20 wilderness with.
DAY 2@#@#@#@#@#@#@#@#@#@#@#@!~
Bank Update: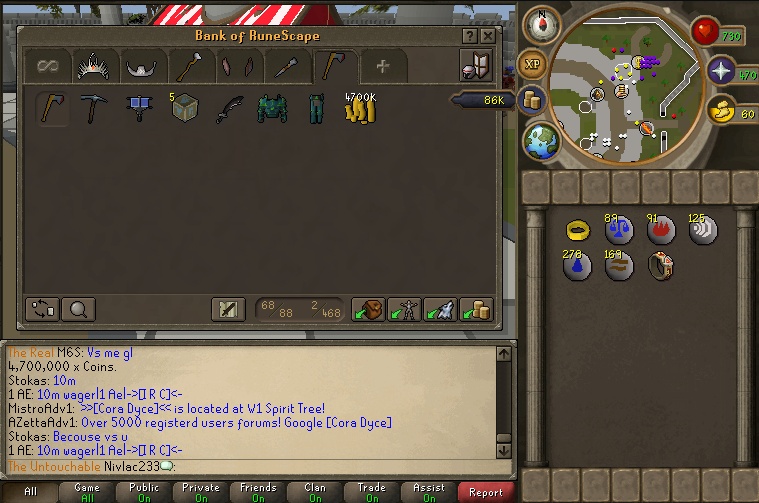 A lot of you by now are probably wondering, where I got the rune sets, the Pennys, guthix, and etc. Those were from going to drops, and giveaways. Despite how controversial this method is, it is still one of the best methods out there in F2P. As you go to more and more drops and giveaways (trivia, hide and seek, and etc), you gain better strategies when at the giveaways. While looking for giveaways, you can high alch, or even superheat for profit. Though, keep in mind that the speed of which your computer sends signals to the server is a MAJOR factor in both trivia and drop parties.
FLIPPING
The following 2 pictures are of an example of me flipping Death Runes with the cash I had earlier today. This example took me just a little under 10 minutes.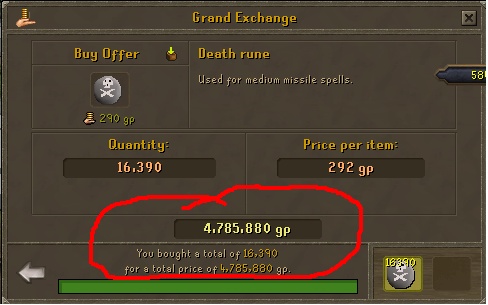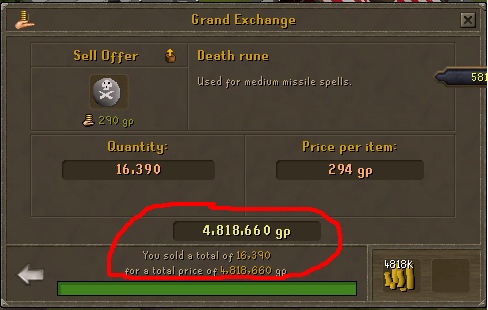 A 33k profit in under 10 minutes, doing almost nothing. That adds up to about 198k per hour (33k x 6). It may seem like it's very little, but you do almost nothing and you can use other methods of making money while flipping.
HOW TO FLIP (Non-Rares)
Step 1: Buy your desired object at +10%, just buy one.
Step 2: However much you bought it for, that's how much you will sell your items for when you start your main flip.
Step 3: Sell your desired object at -10%.
Step 4: However much you sold it for, that's how much you will buy it for.
Step 5: Repeat Steps 1-4 one more time to confirm.
Step 6: Buy in a large bulk at the price you sold the testing object at, your desired item of which you tested. You have to make sure you will actually make a profit with your buying and selling prices.
Step 7: Sell the large bulk at the price you bought the testing object at. Be Patient.
Step 8: You should've made a profit by now and you can repeat the same process with a new or the same item.
Last edited by Nivlac233 on 2012-08-23, 16:15; edited 17 times in total