As you know, combat got completely different, the same thing goes for NPCs' difficulties.
Revenants used to be very hard to kill in f2p. But now it all changed, and you can even last days there without using food! (Well in case if someone or a group of PKers kills you

.)
First of all, here's the best setup for f2ps.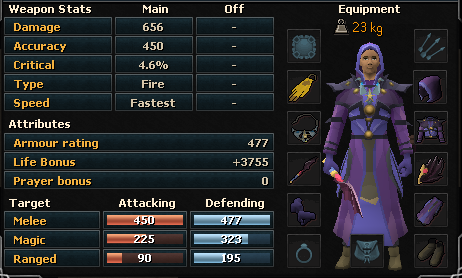 *You need to get the shield instead of the Book. So that you can use "Rejuvenate!"Ultimate when below 60% HP.
*You may use Magic amulet instead of Arcane Amulet.
NOTE: It is unknown if it's a glitch or something. But revenants have EXTREMELY weak ranged attacks: Even THE revenant knight can deal 120 as max hit!

If you have the gear, there should be no problem fighting revs.
Secondly, here's the most useful Ability bar you can use.

Abilities: 1-2. Mostly used to escape pkers' bind attacks. But don't worry; Pkers are quite rare in f2p worlds.
Abilities: 3-4. You can do a combo for 2k+ damage max, If you use Ability #4 THEN use Ability #3.
Abilities: 5-6. Not very useful, but used to get adrenaline up!
Ability: 7. An Overpowered ability that can hit (Assuming you never miss) 4k Damage Max.
Ability: 8. Used when HP is over 50%. An ultimate ability that hits in the range of 1400-2800. IT CAN BE DODGED BY ANY REVENANT!
Ability: 9. Ultimate ability that, if you have a shield equipped, can heal you 40% of your HP. Used once every time you get below 50-60% HP.
Ability: 0-=. Auto-attacks and food.
Ability: "-". To escape from pkers/bank.
Inventory: There is no need for a pic for the inventory. As you only need atleast 1.5k Air + fire runes. Some law runes. You can fill the rest whit food if you want.

Fastest way from bank to Revenants cave:
REQ: Ability to make a Waka boat ; 54 WoodCutting (It's f2p don't worry)
Start off by going to the Canoe tree the closest to bank. Edgeville: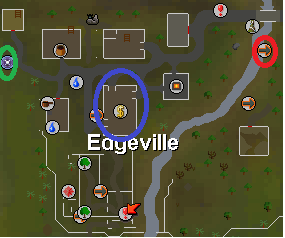 Red Circle shows the Canoe tree that you can use to get to wilderness.
Green Circle shows the load-stones for a fast teleport to Edgeville.
What if I get lost in the wilderness ?:
When you get to the wilderness whit the Waka, you will be near a lake. Just go West until you see a mine of Iron whit hobgoblins, then go directly south. If you follow these instructions, everything should be fine.
Killing revenants:
Before enteting, be sure you have Multi Combat on.(Toogle it whit the Single-way Wilderness ability)
Revenants got so easy, you can fight revenants Orc, Dark beast, Demon and Cyclope whitout loosing too much hp.
The higher-leveled revenants you kill, the more chance there is to get drops.
Rewards:
Revenants have a "Rare" chance to drop any type of Coppurt. Draconique item, and a very rare chance to drop Ancient statuette worthed at 5m and various other statuettes/items 10k-1m worth, and finally...Pennys :p.
The gp/h range whit everyone's luck and how fast he kills revenants. It can mostly vary from 250k/h to 10m/h. But you have to be somewhat lucky.
Hope this guide helped you out whit revenants hunting. Good luck

!
Last edited by Marwane111 on 2012-12-20, 21:36; edited 2 times in total