Oh, where do I start?
I started Rs in about 2006-2007 and played on an off. I decided to come back again in 2011 after quitting for a long time. During that time I played on an RSPS known as RogueX, became well known, and one of the richest players. I transferred banks and became extremely trusted and quite a good PKer.
I finally decided to quit the private server in 2011 (I miss that PS

) and sell my bank. I got over 30M cash (prior to this I had NEVER had over 10m). I bought Bandos and a dragonfire shield at only 85 combat. I had a whip and slayer helmet as well. Halloween of 2011 at Clan Wars, someone offered an AGS for my Bandos. At that time an AGS was worth 10m+ than my 30m Bandos so I took it.
He ended up switching it for a BGS 2 trades later (godswords back then looked almost exactly identical). I was crushed but also gullible. That was the most money I had ever had.
9 months later I joined Cora Dyce and met Kaysie in July of 2012.
She listened to my story and just finished a giveaway. Out of pity for me she gave me 26m to buy my Bandos again. I was absolutely shocked and started the road to rebuilding. I had lost all hope because before I met Kaysie I was scammed for 14m by Obby Flesh (after I sold Dead Frontier stuff for RSGP) in an attempt to rebuild. 
I promised that I would NEVER lose this 26m and I'd invest it into a huge nest egg.
Here we are. 2 years, 2 months and 8 days later. In between I looted drop parties, killed monsters/bosses, slayed, and hosted for money (mostly drop parties/PvM).
And this is what I turned 26m into all because of a little push: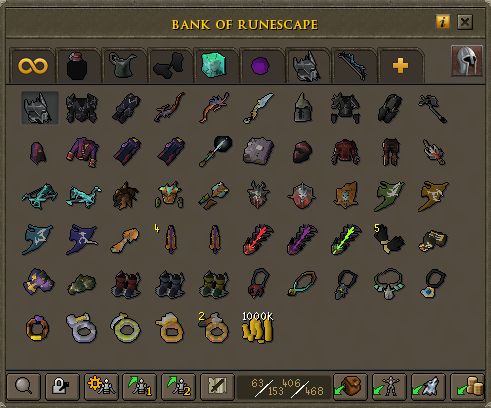 Now it's time for this to happen to me IRL.

Hope you enjoyed my story!